Five Reasons To Choose Smarter Home Security.
What makes a security system powered by our Alarm.com platform "smarter"?
It has its own app, for sure, but so do toothbrushes nowadays. So what's the big deal about smarter home security– and why should you consider it for your home?
1: It's built smarter
A security system keeps you safe by signaling for help in an emergency. Unlike traditional systems that piggyback on your cable or phone connection, our Alarm.com platform uses a dedicated, reliable cellular connection. That's smarter because it can't be cut with wire cutters, or taken out by a falling tree. Alarm.com is a better lifeline for your home.
2: Smart, simple controls

Traditional security systems are controlled at the wall panel. You can control an Alarm.com system with your phone, with a smartwatch, and even with your voice, which makes it easy and convenient. You can also interact with it from anywhere, checking in via video, for example, or answering your front door while you're at work. It's smarter because it gives you way more value.
3: It's proactive in emergencies 
Alarm.com takes proactive measures to protect you in emergencies. If your Alarm.com system detects smoke, it sounds the alarm, turns on your lights and shuts off your HVAC. If there's a water leak, it shuts off your water. If there's a break-in, Alarm.com alerts a professional monitoring station and the police are dispatched to your home.
4: It makes your whole house smart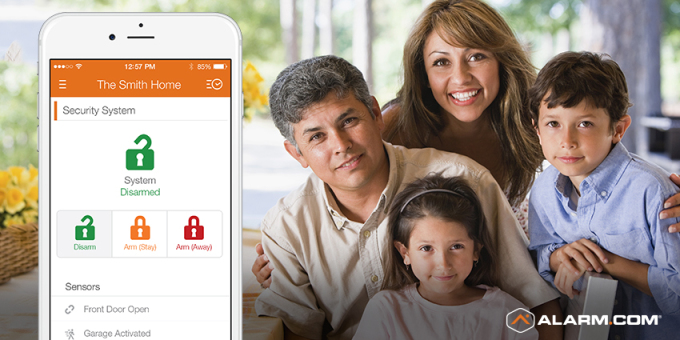 That "smart home" you hear so much about? An Alarm.com security system gives you everything you need to have one. Your dealer can add a smart thermostat, a smart doorbell, video cameras,  smart locks and lighting, smart garage doors and more.
Every device is controlled through the same Alarm.com app, and the security system makes them smarter by having more sensors communicating with each other throughout the home.
5: There's a smart way to own it
Unlike most "smart" technology, you don't have to install Alarm.com yourself. At Prizm Fire And Security we make sure that your security system and other smart devices are installed properly. You don't have to pay for everything upfront either; instead, there's a monthly fee that includes your equipment, professional monitoring, customer support, and access to the latest features and technology.